Important information about the installation
After you have downloaded the add-in from the download area, you still have to extract the received .zip file. You can do this easily with a right click on the file and then a click on "Extract all …". You will now see the "Setup.exe" file and two directories (de and installer). Then start the installation with a double click on the file "Setup.exe". The first installation window tries to determine your Microsoft® Outlook® version. If this is not possible, you can choose which Outlook® version you have. If you are not sure you will find the "About Outlook" button in Outlook® under "File \ Office account". After clicking the button, your Outlook® version will be displayed in the first blue line. If you find the text "64Bit" at the end of this line then you have a 64Bit version. Otherwise nothing is written there and you have a 32-bit version.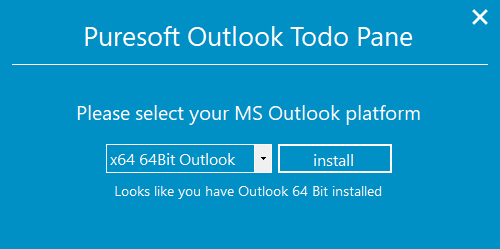 After installation, the TodoPane is not displayed
Can't see the TodoPane? No need to panic yet. Under the "View" menu in Outlook ® you will find a new entry with which you can activate the TodoPane.

I can't find an entry under the View menu
Huch OK that shouldn't happen. You can still check a few things.
In the Outlook ® settings under "File \ Options \ Add-Ins" you will find the entry "Manage: COM-Add-Ins" at the bottom right and next to it a button labeled "Go ….". If you click on this button a window will open. Look for the entry "Puresoft.OutlookTodoPane", activate it and click OK. Normally the TodoPane should show up immediately. If that doesn't happen you can activate it under "View".
You did not find an entry in COM add-ins?
You may have installed the 32-bit add-in for your 64-bit Outlook® or vice versa. Look at the first entry for the installation.
My email address has changed
If your standard email address changes, the add-in will be deactivated after you restart Outlook®. In the settings, you can simply reactivate it, just like when you bought it.
What is the default email address
Outlook ® sends its emails by default from your default email address.
Your default email address will be marked with a black check mark under File / Account Settings.
Your license is attached to this email address, if you change this setting your license will be invalid
and you will have to re-activate it in the AddIn settings.